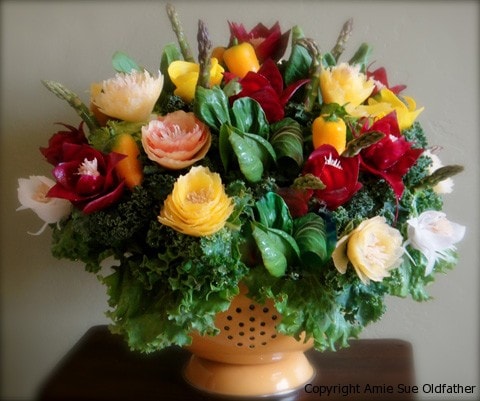 Good afternoon everyone,
I wanted to share some exciting news with you.  I am in the completion stage of my revised "Edible Veggie Bouquet" ebook and it will released soon!
I started making these bouquets many years ago and just never grow tired of their beauty!  I was inspired to make the first one for my Aunt Nancy on her birthday.  I will be sharing that story in the ebook so I won't double dip into it.  There is just sooo much creativity to be found when preparing raw foods, I hope this inspires you!
I don't know why but I am still shocked how people respond when they hear that I eat a high raw diet.  First it's "that look".  I am sure many of you know what I am talking about. :P  Followed by the wrinkled nose and then come the comments on how boring it must be to just eat celery and carrot sticks.  Shesh,  I don't eat just carrots and celery sticks.  My website would tell you otherwise. haha Besides if carrots and celery came in the form of the above picture…then I say…"Bring them on!"  :)
Have a blessed day, amie sue