Why I use it:
Vegan, gluten and cruelty-free, paraben, sulfate, silicone, phthalate, and synthetic fragrance-free.
Contains (all organic):

Safflower (high-oleic) oil – combines with the sebum in human skin to unclog the pores and reduce rashes, acne, and helps to the regeneration of new skin cells.
Sesame seed oil – has an antioxidant known as sesamol that prevents the appearance of wrinkles and small pores in the skin helping in repairing of damaged cells and improving blood circulation.
Pumpkin seed oil – the fatty acids found in this oil help to moisturize the skin and have Vit. C to help against skin damage.
Borage oil – has strong anti-inflammatory effects.
Argan oil – restores moisture to the skin's lipid layer.
Sweet orange oil – provides high levels of vitamin C that help protect and heal skin, helps in fighting signs of aging like wrinkles and dark spots since it promotes the production of collagen.
Cranberry seed oil – works to neutralize free radicals for firmer, glowing skin.
Bulgarian lavender oil – gives luster to the skin, and is good to balance the skin and soothe irritation.
Olive oil – contains vitamin E, polyphenols, and phytosterols, won't clog pores, and also prevents free radical damage to the skin.
Rosemary oil – has antimicrobial and antiseptic qualities that make it beneficial in efforts to eliminate eczema, dermatitis, oily skin, and acne.
Borage oil  – soothes inflammation

It absorbs quickly, leaving my face very soft but not greasy at all.
EWG rated 1
How I use it:
After cleansing with Jojoba oil, I gently apply two pumps worth over my entire face and throat.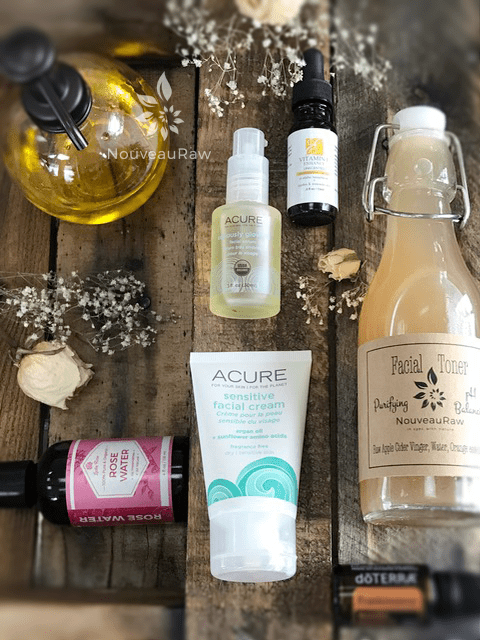 Summary for evening skincare:
Organic Jojoba Oil, Organic Rose Water,  ACURE Seriously Glowing Facial Serum