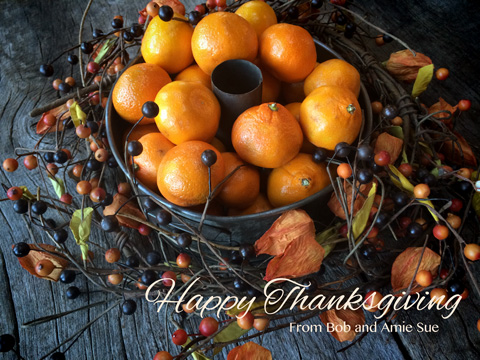 Before the days get busy (eeeer) I wanted to wish you a Happy Thanksgiving and to remind you of how thankful I am for you.  But this warm fuzzy feeling that I have doesn't just happen one day out of the year.  Everyday, I reflect on how blessed and grateful I am to have such encouraging and supporting readers.  You are truly my inspiration.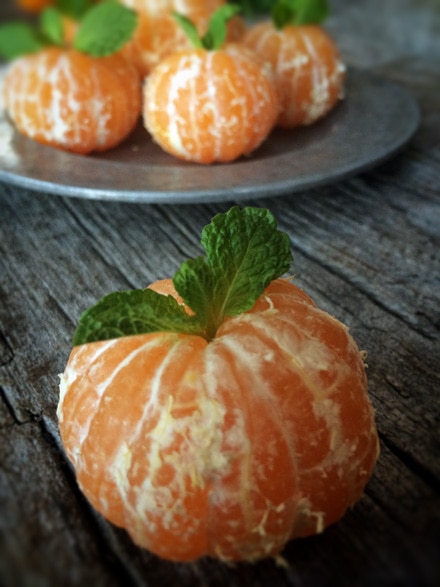 I have so many new recipes to share with you but I didn't want to overwhelm your inbox with individual emails so I decided to round them up into one tidy little spot.  Here.  Below you will find a photo and a link of each new recipe that I have developed. These are all new!   I have more to share in the up and coming days, so stay tuned.
If you're hosting Thanksgiving for the first time, or just trying to think of something special to add to your feast-filled day, you may be short on ideas.  My hope is that you can find some great, healthy dishes here on Nouveau Raw to feed your guests with.
Thanksgiving time is often filled with traditions, but so often they fall to the wayside as the years pass.  Now is the time to either bring them back or create some new ones of your own.  Want to try something new?  Create a Family Gratitude Journal® throughout the year.  Each night, have a family member share something that they are grateful for by writing it down in the book. Then when the next Thanksgiving rolls around, pass it around the table, having each person read from the book.
Another fun idea is to create a tablecloth specifically for Thanksgiving celebrations. Provide fabric markers where friends and family can record their gratitudes by writing them on the tablecloth.  Have each person sign and date their message.  Each year pull this out and decorate your table with it.  Everyone will reminisce and read all the wonderful messages that get recorded over the years.
Here is a quick decorating idea…  Nothing fancy schmancy, but they are sure adorable!   In the picture on right, I peeled some tiny mandarin oranges and popped some mint leaves in the center.  So easy, so adorable!  Edible decor.  Again thank you, each and every one of you, for joining me on my journey.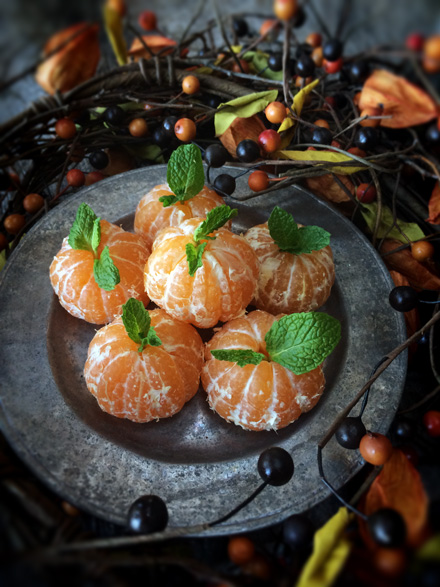 Raw Cranberry and Pomegranate Relish
Raw Pomegranate and Cranberry Relish Cheesecake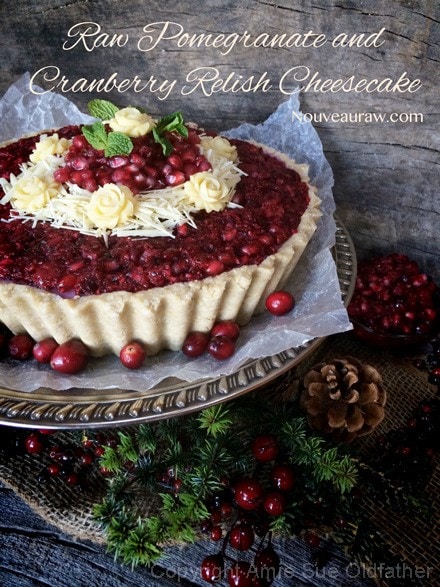 Raw Pomegranate and Vanilla Bean Ice Cream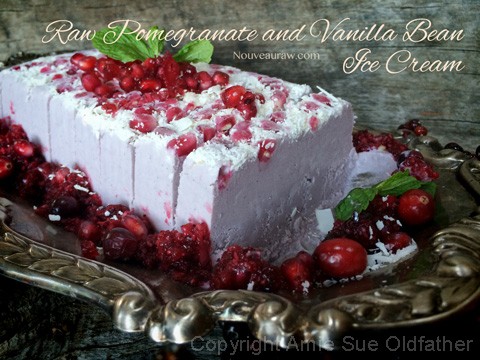 Raw Pomegranate and Vanilla Bean Pudding
Raw Warm Green Bean Casserole with Buttery Walnut Crumble
The little pumpkins below, go together quick and easy.  I bought the plastic
pumpkins from the Dollar Store, and wrapped them with twine, securing it
with hot glue.  Added a few do-dads, and there you have it… a warm Autumn
decoration.