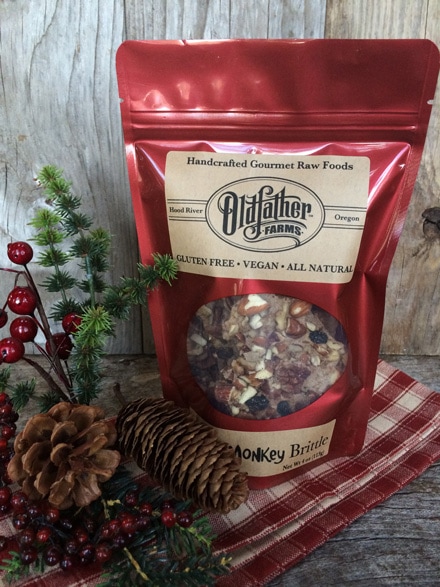 Last month we celebrated the one year anniversary of Oldfather Farms® Gourmet Raw Food Manufacturing Company.  Shew that is a mouthful  (some pun intended).
When we first launched the company, it was my hope to take it online from the get-go.  Within a month of producing our first product  "Crispy Monkey Brittle", our local community had latched on to this delicious snack and it was all we could do to keep up with the demand.  Our products are stocked in our local grocery stores, health food stores, a downtown coffee shop, Ace Hardware and can even be found in a farm irrigation store!   That last one just tickles me pink.
Throughout the year, we have gone through many expansions to accommodate our growth.  To an outsider these changes might seem small but to us each leap had been gigantic!  We are truly blessed and every item that passes through our fingertips makes us smile.
Almost a year ago we created a website for Oldfatherfarms.com, gearing up for online sales, but we quickly learned (after all our hard work) that it just wasn't conducive  for actual selling of our goodies.   So back to the drawing board we went and simplified the site, making it streamlined for taking orders from all corners of the world.
So… all this to say that you can now order Crispy Monkey Brittle, my Veggie Bouquet ebook, and even Oldfather Farms hats  online through Oldfatherfarms.com.    For those of you who have already tried any of these items  we would love for you to leave a review on the individual product page.
Many blessings and Happy Holidays!